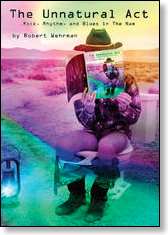 David Warren, a.k.a. Skeet, is found wandering aimlessly across the Mojave Desert in August 1971. He tells us the tale of his incredible adventures in the Nam. He is a 19 year old, abstemious Presbyterian when he arrives in Vietnam. He is a naive patriotic bumbling virgin tuba player who comes of age under the tutelage of two drug-head hippies, a warlock, and a master musician.
Although they are seasoned professional musicians, the band to which Skeet is assigned prides itself in getting away with playing insufferably bad - and suck they did. The cruel band flies into extremely dangerous areas to support firefights by playing putrid arrangements of banal tunes such as The Girl from Ipanema or The Shadow of Your Smile. The guys risk their lives daily to play this dreadful music.
Skeet forms The Sky Trippers - an avant-garde electric band that the grunts love and the lifers hate. They fly around the Nam in their chopper playing electric acid concerts in the jungle. Along the way they have many adventures ranging from drug smuggling and whoring to practicing witchcraft and rescuing foot soldiers from the true enemy (the American lifers). Sometimes they perform knee-deep in mud, or use fallen trees for a stage. They often come under enemy fire during their performances - a seriously tough audience!
Skeet watches as, one by one, his comrades are injured or killed. The lucky ones leave for home. Toward the end, he finds himself alone in Vietnam so he goes on R & R to Bangkok where he falls in love with a prostitute with a surprise. Eventually he returns home for the biggest shocker of all!

What readers are saying about the book:
This book is destined to be a cult classic for many years to come.
Amazon Review

"The Unnatural Act: Rock, Rhythm, and Blues in The Nam is one of the Vietnam era's definitive coming-of-age tales."

"...a very deep, substantive, touching story about coming of age in the wrong place at the wrong time."

"The Unnatural Act is a book that should rise to the top ranks of Vietnam War literature."

"Brilliantly written! This book definitely makes the "A" list."